Pies: Tony and Denise Wooding began making and selling pies as The Biltong Bar mid 2003, starting with selling 6 pies per Market Saturday! Now, under the banner of The Biltong Den, up to 160 pies are sold in a 4-hour morning in season! Denise is still at the helm and produces pies of the best quality and taste in the Garden Route. Says Paul O'Connor, British Irish Lions tour captain: " Best pies in the world." Then there was the guy who was keen to marry Denise to secure an endless supply of her pies! Even the locals say Denise's apple pies are "made in heaven."
Flavours include: Springbok, kudu, pepper steak, plain steak, chicken, Cornish, spinach & feta, sausage rolls and cocktail sausage rolls – and, of course, the most delicious apple pies in the world!
Biltong: A combination of Denise's biltong recipe and a brilliant tasting beef biltong from the owner of The Biltong Den has created "the best biltong on the Garden Route." The dry wors (sausage) sold at Market is packed by a local butcher and the venison is sourced from the Cape south coast and the Eastern Cape. Says James Small, ex Springbok: " Great Billies!" Biltong flavours available: beef, kudu, chilli sticks. Contact number is 044-532-7784
The Biltong Den pies and biltong are found at two different stalls, but be quick because both sell out very quickly.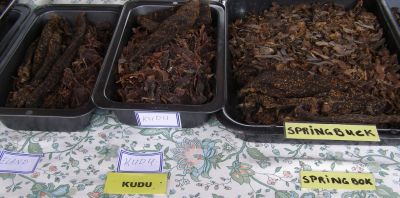 Lots of different flavours to try.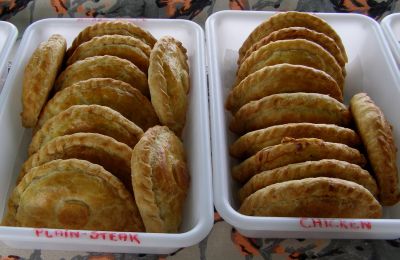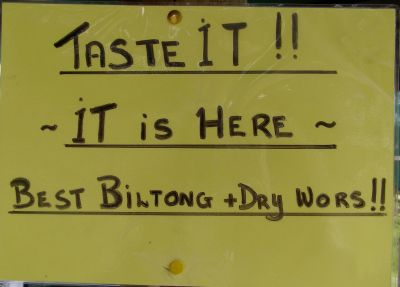 Steak and chicken pies (left) and delicious apple pies (right) - take some home for lunch.