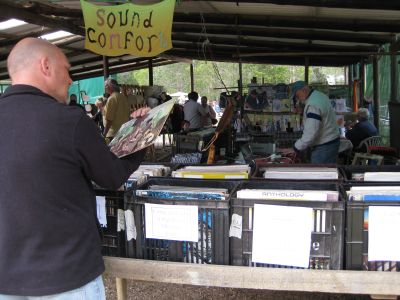 Some folk browse the morning away looking through the vinyl.

Below is an example of an LP with the corresponding CD created by Graham, adhering to all the legal requirements.

Graham and Judy Vos run the music stand, called Sound Comfort. There they sell vinyl, "LP's" from their vast collection of over 4,000 vinyl from all genres. Go to their vinyl website www.vinyl4u.biz to find some awesome rare LP's for sale! They also take in peoples' vinyl and audio cassettes for conversion to CD. Music is Graham's passion and restoring peoples' treasured memories brings great joy. Judy has a database of all their vinyl and can easily identify in which Crate to look for the desired treasure. Graham is also the Market DJ, playing a wide range of music, mainly "old style" which is enjoyed by one and all. His varied announcements about specials and what is on sale at the various stalls, interspersed with fun competitions, helps create the wonderful vibe at the Market. Contact Graham and Judy on jvos@strombolis.co.za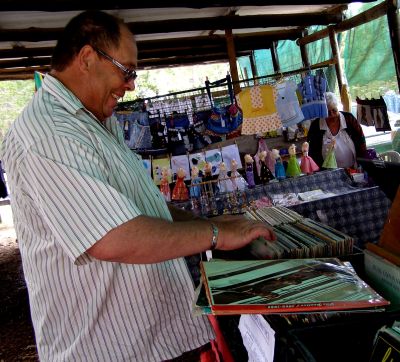 Below is a pdf file of Sound Comfort's vinyl database, excluding Classical, Children and Religious which are available on our vinyl website www.vinyl4u.biz . Browse at your leisure and contact Judy if you find something you would like to purchase or have converted to CD. It is not recommneded to print the file as it is A LOT of pages! But do re-download every now and then to ensure you have the latest version!
Updated Feb 2014